Welcome to the official Roanoke Valley Radio Control Club website.


WINGS OVER SALEM 8


event live now here
Guests are always welcome!
WAR-BIRDS OVER SALEM II ~ 2017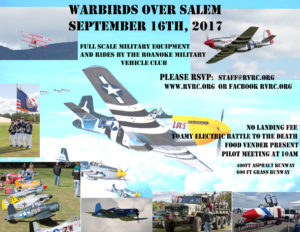 event live now here
AMA Charter Member 638
RVRC is located in Salem on McCelland Street south of 4th Street (the Route 11/460 bypass around Salem). The field is across the railroad tracks and behind the old Timber Truss Housing Systems building. Look for the RVRC sign on 4th Street.
Come watch us fly from dawn to dusk, seven days a week.
Club meetings are held on the first Monday of each month at the RVRC club field at 7pm.