Welcome to the official Roanoke Valley Radio Control Club website.

Guests are always welcome!
WAR-BIRDS OVER SALEM II ~ 2017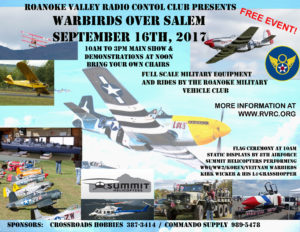 525 McClelland St, Salem, VA 24153
Highly recommend you bring a chair!
Roanoke Valley Radio Controlled Club [AMA#638] of Salem, Virginia in a joint task force with :
Commando Supply & Roanoke Military Vehicle club presents….
WARBIRDS OVER SALEM VIRGINIA September 16th
Giant Scale Aircraft, Combat Aircraft, Helicopters – ALL ARE WELCOME !! Everyone is invited to attend a great weekend event we are hosting at Roanoke Valley Radio Control club field. Come join us in this fun operation. We will have a wide range of different military aircraft from small to giant scale, and full-scale military vehicles! The Roanoke Valley Military Vehicles club is offering rides in their military trucks for donations. Meet and greet the members of the 8th Airforce Fellowship and see their artifacts from time of service. Are you into Navy, come take a look at models of destroyers, battle ships and subs. The famous Local Kirk Wicker will be attending and bringing his ww2 L4 Grasshopper recon full scale aircraft. Summit helicopters performing noontime flight demonstrations. Food vender present, RC flight simulator for those that would like to try flying RC airplanes, & games for the kids. Early arrivals on Friday are welcome & camping is available (no hookups). Look forward to seeing you there. We are located in the middle of Salem, Va. and are a part of the Roanoke Valley. 400ft paved runway with a 600ft grass.
Pilots meeting at 10:00 AM on Saturday September 16th …pilots MUST RSVP to staff@rvrc.org, vending spots available. Pilots must have current AMA membership & All aircraft must be labeled with AMA Number. Stay 'til Sunday and enjoy the town. Plenty of shopping, restaurants and hotels within 3 miles of the field. If you have any questions please email staff@rvrc.org
AMA Charter Member 638
RVRC is located in Salem on McCelland Street south of 4th Street (the Route 11/460 bypass around Salem). The field is across the railroad tracks and behind the old Timber Truss Housing Systems building. Look for the RVRC sign on 4th Street.
Come watch us fly from dawn to dusk, seven days a week.
Club meetings are held on the first Monday of each month at the RVRC club field at 7pm.